The Code of Conduct is the rule book for all Which? Trusted Traders to follow on every aspect of running your business. It provides a framework of expected behaviour for traders to follow to protect themselves and consumers. Assessor Manager, Phil Thomas described it as 'the 10 commandments of Which? Trusted Traders' – although there are a few more than ten.
You can download the full Code of Conduct, for your reference.
The Code of Conduct is designed to ensure that all traders follow the best possible business practices for the benefit of consumers.
What is included in the Code of Conduct?
The Code covers areas such as how to handle and process consumer contracts, dealing with consumer complaints and payment issues. More generally, it provides information on what is expected of you when you become a Which? Trusted trader.
Which? Trusted Traders reviews and updates the Code of Conduct regularly to ensure that it remains relevant and up-to-date with any changes in legislation or the scheme itself. We aim to provide clear guidance on the standards and approach to running your business that we expect.
Why is the Code of Conduct important?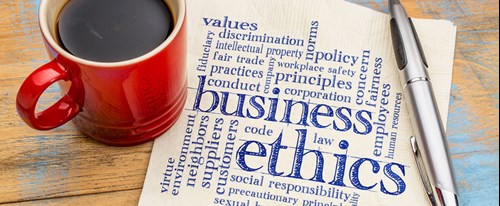 The Code of Conduct makes it clear what Which? Trusted Traders expects from you and your business. It sets out responsibilities, conduct and ethics in addition to ensuring you comply with current regulations.
The Code of Conduct offers consumers an extra layer of security and reassurance by requiring that endorsed traders follow the rules and guidance offered by Which?. Many Which? Trusted traders recognise how important it is for consumers to have that extra peace of mind.
The Code of Conduct provides a reference point for consumers, so they know what to expect from you. There are specific regulations around complaints, so consumers know that they are not on their own, should anything go wrong.
Along with the Which? Trusted Traders Agreement, the User Regulations and the What is Expected of You documentation, the Code of Conduct reassures consumers that they are in capable hands.
How does the Code of Conduct benefit my business?
The more comfortable consumers are with your business and trading practices, the more likely it is that work will come your way.
Abiding by the Code of Conduct is what sets you apart from the competition as a Which? Trusted trader. The regulations ensure you're operating your business in an honest, trustworthy and fair manner.
You can show the Code of Conduct to your customers – we recommend giving them a copy with your quotes. This will let them know what they can expect from you.
As well as providing reassurance for prospective customers that your business practices are up-to-date, the Code of Conduct also offers support for your business should anything ever go wrong. Our alternative dispute resolution service is on hand to assist if you are unable to satisfactorily resolve a consumer complaint yourself.
All Which? Trusted Traders have access to the Dispute Resolution Ombudsman's alternative dispute resolution service. If you are unable to resolve a complaint with a customer, you can direct your customer to the alternative dispute resolution service. All complaints are then investigated independently and the facts of each individual case are assessed.