Becoming a Which? Trusted Trader gives you access to an on-site profile linked to the trusted Which? brand, helping to boost your online search rankings and making sure potential customers can find you online.
But having a W?TT profile isn't the only step you can take to improve your company's visibility on Google. Read on to find out how to combine your W?TT profile with a free Google My Business account to make sure you reach as many customers as you can.
What is Google My Business?
Google My Business is a free business profile that helps Google and potential customers to find and approach your business and the services you offer. 
You can add your business information, photos, videos and a link to your company website.
Google will use this information to match your business profile with local customers who are looking for your services.
Information from Google My Business is often displayed high up in search engine results pages and it helps to promote your company. 
When people search for your company by its name, your Google My Business listing should appear on the right of the search results. 
 Try this now – Search Google for your company's name. Can you see your Google My Business profile on the right-hand side of Google's search results?
What are the benefits of Google My Business?
Google My Business helps increase your company's brand awareness in your local area. That could help you get more enquiries via your website, phone calls and online estimate requests for your services.
The main benefit of having an up-to-date Google My Business profile is that potential customers will be able to find your company more easily when they search Google for a local trade or service, for example with the search term 'plumber near me' or 'electrician near me'.
Searches for services 'near me' have been on the rise since the coronavirus lockdown in early 2020, so it's really worth ensuring that your business is easy to find online. 
You can see how local searches have changed in the UK in the last five years in the Google Trends data below: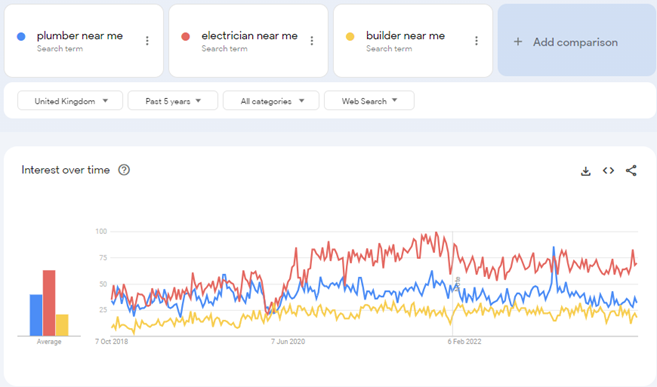 Try this – Search for your trade followed by 'near me' in Google. Can you see your company listed under a local map?
What does a Google My Business profile look like?
Your Google My Business profile will show your company's name, contact details and opening hours, as well as any Google review ratings you have recieved. 
It will come up on the right in a Google search for your company's name. 
Plus, when people search for your trade on Google Maps, your listing will be pinned to your business's address, and display your contact details when anyone clicks on it. All this helps local potential customers to find you when they need your services.
How to set up a Google My Business listing
Now that you know you need one, it's time to set up your company's listing. Luckily, it's a straight-forward process. 
Creating your Google My Business listing is very easy. Go to Google My Business and follow the free sign-up process.
You'll need to fill in a template with details about your company name, address, business area, telephone numbers and so on. You can add as much or as little detail as you like. 
Photos showing your business and your portfolio of case studies make your profile more attractive to potential customers. You could even add your Which? Trusted Trader logo to make your profile stand out!
Google will send you a verification PIN number before it approves your new business listing.
Updating your profile
Keep your listing up-to-date to allow existing and potential customers to find your business more easily. You can edit your business profile anytime. This can be particularly useful around bank holidays to indicate when you are open, for example.
It's up to you how much detail you want to add, but much like your Which? Trusted Traders profile, you can add photos of your recent work and videos to encourage potential customers to contact you. 
If you have more than one business location, you can add these in bulk from your Google My Business dashboard.
Useful Google My Business features to get you started
 Posts: Regularly adding new posts with updates, new offers and events will helpi Google to understand your business and encourage potential customers to engage with your company via your profile.
 Info: This includes your business category, full company address (for those companies that don't want to display their 'home address' this can be hidden, although it's better for it to be displayed), opening hours, phone number, website URL, products, services, and more.
 Online estimates & on-site services (feature added August 2020): These tick/cross options display in your business profile and help your customers understand what services you can provide. 
 Insights: See how customers find and engage with your Google My Business profile.
 Reviews: Customers are able to submit reviews for your company and these star ratings are displayed within your business profile.
 Messaging: Google My Business messaging can be activated via the Google My Business app. This enables customers to directly message you on your mobile phone and request an estimate.
 Photos: Uploading an external photo of your business, photos of your team and portfolio of work to create a comprehensive gallery of your company is important in helping to communicate the high standards of service you offer as an approved Which? Trusted Trader. Read our guide to how to get the best photos on your business profile.
Google is regularly updating the features within Google My Business to help companies of all sizes promote their business online. 
Make sure you login to your Google My Business profile regularly to add new posts, photos, videos and update your business information.
Next steps – If you don't have a Google My Business profile, or if you haven't logged into it for a while, now is a good time to update your Google My Business profile to help Google and potential customers to better understand your business and the services you offer.